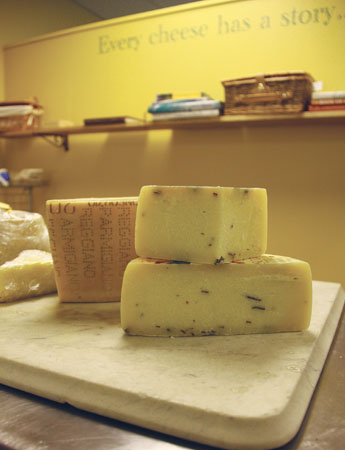 At Bloomy Rind, every cheese has a story.
Like many SouthShoreresidents, Mary (Sullivan) Gonsalves was raised in a family strongly rooted in Irish culture and traditions. She was the eldest of the six Sullivan children and their Dorchesterhome was a frequent gathering place for family and friends. Mary's parents welcomed everyone to the big farmhouse table in the kitchen with a pot of tea and repast of ham, sweets, soda bread, and cheese—always cheese. The food was a big draw, but what kept people coming back to the Sullivan's table was the lively atmosphere. The Irish have a word for it—craic—which, although it does not translate directly, means fun times, banter, and enjoyable conversation. When Mary and her husband Robert Gonsalves opened Bloomy Rind, a specialty cheese store and gourmet café in Hingham, they set out to recapture the warm and welcoming feeling, the craic, that Mary learned to love around her parents' table. And, judging by the number of people who have made Bloomy Rind their destination of choice for wonderful cheese, a delicious lunch, or food to take home for dinner, they certainly have succeeded.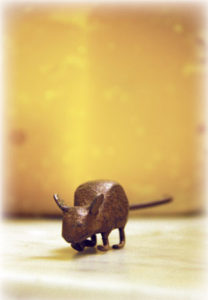 For food lovers, Bloomy Rind is a hybrid of the most wonderful sort: a specialty cheese store and a gourmet café. Carrying over fifty varieties of both domestic and imported cheese, the store has quickly become a mecca for cheese lovers. It is also a gourmet café where Robert Gonsalves, a graduate of the Culinary Institute of America, cooks healthy and delicious food in harmony with the seasons. Think pea guacamole. Watermelon gazpacho. A toasted brie and bacon sandwich with peach butter. But the heart of the Bloomy Rind is the big farmhouse table where folks sit together and enjoy some craic.
Mary has had a life long love affair with cheese and, during the course of her twenty-year marriage to a chef, learned much about it. Before opening the store, the couple traveled extensively, visiting farms and artisanal cheese makers to learn more about their craft. While Bloomy Rind carries many of the classic European cheeses, Mary likes to showcase the best American artisanal cheeses because, as she says, "we have farmers in this country who need a chance." In fact, as more and more European cheeses are mass-produced, American cheese makers have jumped in to fill the void with their artisanal cheeses. "Artisanal" is the term given to any cheese that is handcrafted, while a "farmstead" cheese is also made from the milk of animals raised on the same farm that produces the cheese. According to Mary, handcrafted cheese has a flavor that differs greatly from mass produced cheese, and "it is a living, breathing thing that ages like the rest of us."
Mary has cultivated a wonderful relationship with many cheese makers and talks to several of them a week. According to Mary, "we have farms calling us that don't want to go through a distributor and have their stories get lost." On a rotating basis, Bloomy Rind carries forty domestic cheeses just waiting to be sampled. Customers can happily spend ten to fifteen minutes sampling cheese and, along with their Cheddar andGouda, get an education about what they are purchasing. Mary says, "we will never be a cheese drive-through," because she prefers to spend time with each customer to ensure that they find the perfect cheese. With her outgoing personality, Mary is a natural at sharing her passion for cheese with her customers.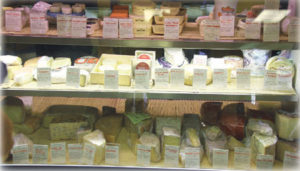 After graduating from culinary school, Robert spent two decades cooking at the well-knownBostonrestaurants L'Espalier, Olives, and Figs, as well as at Beso inLos Angeles. Most recently, he was the executive chef for Todd English Enterprises. After years of work-related travel, the couple, ready for a change, opened Bloomy Rind in May 2010. On a daily basis, the store features half a dozen inventive sandwiches, two soups, a frittata, flatbreads, and numerous vegetable- and grain-based sides, such as a farro salad and gremolata. According to Robert, "I just can't make enough of the farro. People just love it. I like to cook with things people don't have a lot of exposure to and help them find new foods they love." Depending on what is in season or what piques his interest, Robert also makes dishes that range from roast pork to succotash. Dishes such as the pea guacamole have become cult favorites, with upwards of twenty people placing orders for it one weekend. And, this is a dish that teaches people a lesson about the seasonality of food. Robert will not compromise his cooking by using out-of-season produce; once the season has passed, there will be no more pea guacamole until next spring. Jude Sonder, a regular customer, notes, "Robert has elevated lunch to an art. Everything they offer is simply exquisite—this is not food you want to rush through when you're eating. And the cheeses are just as much a part of the menu. Mary takes the time to help you find cheeses that are right for your palate and believe me, she never disappoints."
Bloomy Rind has introduced the younger generation to the joys of good food. In downtownHingham, when hunger calls, most kids opt for a burger and fries or a slice of pizza. But, once Bloomy Rind opened, a remarkable thing happened. Kids learned that good, wholesome food could be delicious. Much of this is due to Mary's warmth and hospitality to even her youngest customers. Curiosity first drew kids to the store, and then they were won over by the slices of fresh bread and other samples Mary offered them. Once the rapport was established, the kids grew brave and tried things they never would have if offered by their moms. OneHinghammom was astonished when she received a call that the carrot hummus her twelve-year-old had put on hold was ready to be picked up. Another little girl often rides her bike down to the store and comes in with a fist full of change. Mary fixes her a plate of bread and cheese and perhaps a cupcake to enjoy.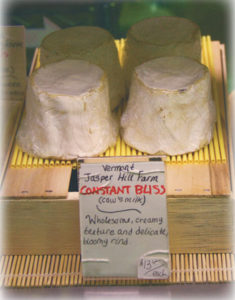 The success of Bloomy Rind is proof that the movement back to real food is taking hold. For years, choices for a quick lunch were limited to a mediocre sandwich or a slice of pizza, and it is wonderful to now have the option of healthy, seasonal food. Bloomy Rind has become a destination. Some people come for lunch once a week; others can't resist coming in every few days to see what new food is featured. Since Robert is not tied to a set menu, his creativity has free rein. Consequently, the menu changes daily and the customers love the variety and adventure of seasonal eating. People also seem hungry for the sense of community that they find sitting around the farmhouse table at Bloomy Rind. Robert and Mary love to talk about their food. They also love to tell stories and hear about their customers' lives. As customers sit around the communal table, oohing and aahing over their food, they often strike up a conversation with their neighbor and the craic begins to happen. Jude Sonder sums it up this way: "Going to Bloomy Rind is like going to a friend's or family's house, where you always get that feeling of comfort and familiarity when you walk in. You really feel part of a whole by sharing exchanges with Robert, Mary, or the staff, and by being welcomed to the one table they offer in the shop—a communal table where you can get a 'side' of conversation along with your meal. Mary and Robert are as good at building community as they are at building gourmet sandwiches."
The combination of wonderful food, delectable cheese, and the craic that customers enjoy sitting around the table has proved to be a successful recipe for Bloomy Rind. For people who love delicious food, but also want food made with integrity, Bloomy Rind is a welcome addition to theSouthShore.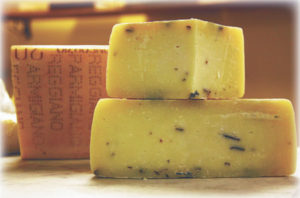 Parmigiano Reggiano and Cacio di Bosca pair for Winter Farro.

Bloomy Rind
21 Main Street
Hingham, MA 02043
(781) 740-1001
Photos by Michael Hart
http://juliapowersnutrition.com/wp-content/uploads/2017/01/56100_EdibSout_I007.jpg
450
345
julia
http://juliapowersnutrition.com//wp-content/uploads/2017/01/top01-1.jpg
julia
2017-01-12 10:35:19
2017-01-13 08:28:16
A Perfect Pairing Bloomy Rind