Ten years ago, eating local seemed like, if you will excuse the pun, a foreign concept. But, as the benefits of locally sourced foods have become more widely known, many South Shore residents have embraced eating locally. We might also consider drinking locally . . .

In America, bottled water and soda are ubiquitous, but a quick glance at supermarket shelves makes it clear that a few large companies dominate the market. Coke and Pepsi, which are also in the bottled water business, own Dansani and Aquafina, respectively. And Poland Springs, a name that is synonymous with Maine, is owned by Nestlé.
But there is a local alternative! The Simpson Spring Company, a small, family-owned business located in South Easton, sells bottled water and twelve classic varieties of soda.
The business is, quite literally, built around a natural spring that has been in use since at least the 16th century, when the Assowompset, a Native American tribe, drew drinking water from the bubbling spring. Early colonial settlers followed their lead and began to use the spring for drinking water. In the 1830s, the spring acquired its current name when a local blacksmith, Samuel Simpson, bought the land on which the spring was located. In 1878, his grandson-in-law, Fredrick Howard, purchased the land and began delivering stone jugs filled with Simpson Spring water to the Brockton shoe factories. Concurrently, as carbonated beverages became the rage, Howard used the spring water to make carbonated sodas; demand for both the water and soda soared. The 1920s brought big changes to the company. Prohibition further heightened demand for soda, leading to significant sales growth. And Fred Howard sold the company to the White family. They owned it until 1988, when it was sold to the current owners, the Bertarelli family.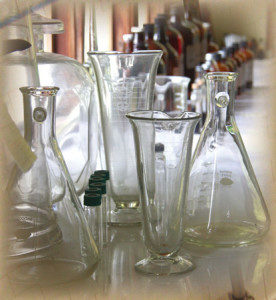 The bottled water and soda industry has changed significantly since the late 1800s, and as one of the oldest independent bottlers in the country, the Simpson Spring Company has adapted to these changes. To compete against national brands, the Bertarellis developed their own niche: marketing delicious spring water and hand-mixed soda to the local market in the traditions established by their predecessors. As a result, much about the company harkens back to a different era. Sodas and single serve waters are sold in glass bottles, the syrups used to mix the soda are still based on Fred Howard's original recipes, and the company is housed in a historic building dating from 1878. This commitment to tradition has not always been easy. When the soda giants switched to plastic bottles, it became so difficult to find a bottling machine that would accommodate glass bottles that Jim Bertarelli eventually had to import one from Italy.
Despite the fact that most Americans have access to tap water that meets strict water quality guidelines, many people drink bottled water. Their reasons vary but taste, convenience, and concerns about water purity are chief among them. However, when it comes to bottled water, it pays to be an educated consumer. While some brands, such as Simpson Spring, are indeed spring water, others are filtered tap water, and labels sporting pictures of pristine mountains and lakes can mislead consumers about the source of the water they are buying. Although some companies list the sources of their bottled water, including municipal water supplies, others do not disclose this information on the label. Given that consumers are paying a premium for a product that they could readily get from the faucet at home, it pays to really know the product when making a purchase. According to Christine Bertarelli, "Once people check the source [of their bottled water], they are like, 'Oh my goodness'."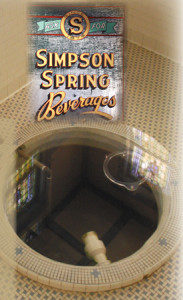 Given that the Simpson Spring is the lifeblood of the company, it seems fitting that it is housed in a room that is faintly reminiscent of a chapel, complete with beautiful stained glass windows. Geologists believe that Simpson Spring gets its start in Northern Canada and then travels, deep underground, hundreds of miles to South Easton, where a fissure allows it to bubble up to the surface. Customers prize the purity of Simpson Spring water and independent lab tests are done twice weekly, once at the source and once after bottling, to ensure the high quality standards that the Bertarelli family and their customers demand.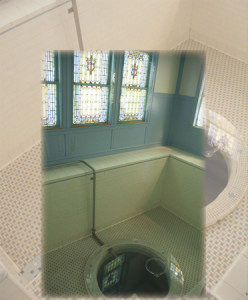 Sales of the spring water accounts for about 80% of the company's business. The water is sold in individual glass bottles and in one, three, and five gallon jugs. Home delivery is available or customers can fill up their own containers at any one of fourteen self-service sites located throughout the South Shore, including the company's South Easton headquarters. Seltzer water, both plain and flavored, is also available in half liter glass bottles. Unlike many other brands of seltzer water, the taste of Simpson Spring carbonated water is subtle. Their flavors include lemon-lime, pink grapefruit, and native cranberry. The flavored seltzer water is made with essence of fruit juices and contains no artificial sweeteners.
Simpson Spring sodas are not your everyday soda; the tastes are intriguing and notably less sweet than the national brands. As you might expect, it all comes down to the ingredients. Most soda is about 90% water, so it follows that great tasting soda starts with great tasting water, such as Simpson Spring. The flavors include: raspberry lime rickey, ginger ale, cream soda, coffee, cola, fruit punch, grape, white birch, root beer, sarsaparilla, orange, and lemon lime. Tastes change over time and this is reflected in the Simpson Spring product line; chocolate and pineapple coconut sodas are no longer offered. Raspberry lime rickey and white birch are the current best sellers.
Like others in the industry, Simpson Spring uses high fructose corn syrup to sweeten its soda. This change to Howard's original recipe predated the Bertarellis' purchase of the company and was most likely done because high fructose corn syrup is approximately 30% cheaper than sugar. According to Chris Bertarelli, making the switch back to sugar as a sweetener is "part of our long term plan." But, as any small business owner can appreciate, the company will first have to determine how to do so without alienating their customers with a dramatic price increase. In the meantime, Chris continued, "Everything in moderation. We were never meant to have five sodas a day."
Simpson Spring sodas are available at the Fruit Center in both Milton and Hingham and at numerous specialty retailers throughout the South Shore. Simpson Spring products are also available at several area farmers' markets.
As another way of honoring Simpson Spring's legacy, Christine and Jim Bertarelli have lovingly preserved the company's historic building, maintaining some spaces as they were in the early 1900s. Tours of the facility are offered each Saturday and by appointment. In addition, the Bertarellis are strong supporters of local foods, even holding a weekly market at their South Easton facility featuring other area vendors.
The reasons for eating local are the same reasons it makes sense to drink local. Chief among them are boosting the local economy by supporting a South Shore-based family business and the reduced environmental impact that comes from forgoing water and soda that is shipped hundreds of miles. But, once you taste Simpson Spring water and soda, it will come down to one very important reason—the excellent taste.
Simpson Spring Company, Inc.
719 Washington Street (Rte. 138)
South Easton MA 023375
(508) 238-4472
www.SimpsonSpring.com
Julia Powers is a strong believer in the many benefits of eating locally. She was thrilled to learn that she can now drink locally as well. Simpson Spring cranberry seltzer is her current favorite.
Photos by Michael Hart 
http://juliapowersnutrition.com/wp-content/uploads/2017/01/69031_EdibleSouthShore_I025-300x120.jpg
120
300
julia
http://juliapowersnutrition.com//wp-content/uploads/2017/01/top01-1.jpg
julia
2017-01-12 10:38:38
2017-01-13 08:28:12
The Story Of Simpson Spring