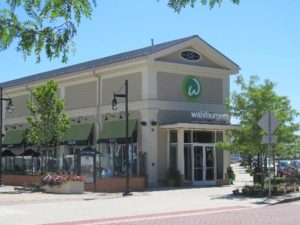 Sometimes, you just gotta have a burger.  When the craving strikes, South Shore residents can now head to Wahlburgers, the area's newest burger joint, which opened last week in the Hingham Shipyard. Chef Paul Wahlberg, a Hingham resident and self-confessed burger addict, is the driving force behind the casual restaurant, which pays homage to his favorite food. Like his other restaurant, Alma Nova, located just down the street, Wahlburgers is a family affair. Two of Paul's famous siblings, actor-producer Mark Wahlberg and actor Donnie Wahlberg, along with business partner Ed St. Croix, join Paul as co-owners of the new restaurant and the Wahlberg name certainly brings a touch of Hollywood to Hingham.
The menu offers several riffs on the basic burger. In a nod to the Dorchester triple decker in which the Wahlbergs were raised, there are single, double and triple decker beef burgers. The beef used in the burgers contains no hormones or antibiotics and is ground fresh.  There are also turkey burgers, barbeque bacon burgers, and the Thanksgiving burger-a turkey burger topped with stuffing, orange-cranberry sauce, and roasted butternut squash. In another tip of the hat to their childhood, burgers are served with "government cheese", also known as processed American cheese. However, you can choose cheddar or blue cheese from the extensive list of burger toppings. The menu also features hot dogs, Yukon gold French fries, onion rings, and both traditional and sweet potato tater tots. Two local favorites, Hornstra milk and Nona's ice cream, make an appearance on the menu, the latter as part of delicious frappes. The menu notes that a salmon burger and a mushroom burger will soon join the line-up, a welcome addition for vegetarian diners.
The décor of Wahlburgers celebrates the family behind the restaurant. Ceiling panels list movies, TV shows, bands, and restaurants in which the brothers have been involved. A map of their Dorchester neighborhood is superimposed on the wall, along with a photo of the home in which the family was raised. The L shaped restaurant, offers two seating options. Patrons who want a quick bite can place an order at the counter and grab a table or a booth. The other side offers table service and a full bar.
Whether you are craving a delicious burger or a little taste of Hollywood, Wahlburgers is your destination of choice.
Photos by Michael Hart
http://juliapowersnutrition.com/wp-content/uploads/2017/01/outside-walking-up-to.jpg
412
550
julia
http://juliapowersnutrition.com//wp-content/uploads/2017/01/top01-1.jpg
julia
2017-01-12 09:56:01
2017-01-13 08:29:38
Sometimes, you just gotta have a burger