John Hornstra has been a busy man. A very busy man. As we told you about in the summer 2010 edition of Edible South Shore, three years ago, John purchased property in Norwell with plans of re-establishing a dairy farm right in the heart of the South Shore. This would be an ambitious goal for any person but John was the perfect man for the job. As a third generation dairyman, he knew the monumental task he was undertaking.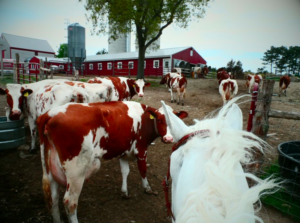 John's great-grandfather founded Hornstra Farms in 1915 and John spent his childhood happily learning the family business. In 1969, the changing suburban landscape led the Hornstra family to sell much of their Hingham farmland and the cows that grazed there. The business then transitioned to delivering milk, most recently from John's cousin's New Hampshire dairy farm, as well as a wide variety of other foods. For decades, Hornstra's iconic yellow trucks have been a welcome sight all over the South Shore making their weekly rounds delivering milk in old-fashioned glass bottles. But, childhood dreams die hard and John always dreamed of bringing the cows back to the South Shore. In 2009, when the 80- acre Loring farm became available for sale, John had the opportunity for which he had been waiting.
Establishing a new dairy farm does not happen overnight; John spent the next four years getting the farm up and running. John's to do list included: restoring the house and barn, rebuilding stone walls, and building an on-site milk processing plant to ensure his high quality standards. And, he also had to work on procuring the most important asset of a dairy farm—the cows. And, here, John's friends and fellow farmers lent a hand; they helped by raising the calves that would eventually make up the new herd.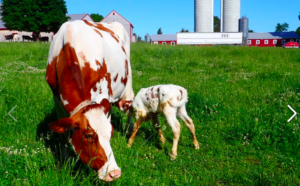 The countless hours of hard work have paid off and, finally, after four years, Hornstra Farms is now delivering milk produced by cows that call the South Shore home. Hornstra's new Norwell farm is home to one hundred red and white Holsteins, fifty of which are currently milking. When the weather cooperates, Hornstra's cows spend four to five hours a day on pasture, eating grass the way nature intended. The cows diet is supplemented with corn and hay, both of which John grows. The Norwell farm boasts a large cornfield, and, in a cooperative arrangement with the Trustees of the Reservation, John hays 40 acres in World's End, a Trustees property. This arrangement enables John to provide hay to his cows and fulfills the Trustees mission of supporting local food and farms.
With the first taste of Hornstra milk, it becomes clear that it is far different from most other brands of milk in the dairy case. As John says, "it tastes like milk was meant to taste," and one of the keys to this delicious taste is the company's use of vat pasteurization. With this form of pasteurization, the milk is gently heated to 145 degrees for half an hour. According to John, this technique "preserves the integrity of the milk, the natural enzymes and gives the milk a superior flavor and velvety texture." Most major milk distributors deem the technique too time intensive and expensive but, as a small producer with his own distribution channel, John has flexibility to process the milk in the way that he believes will produce a superior product. John commitment to quality is so great that he even built a dairy facility to bottle his own milk on the farm. He now has total control of the product, from the care his cows receive to the way the milk is bottled. His dedication to quality comes through in every bottle.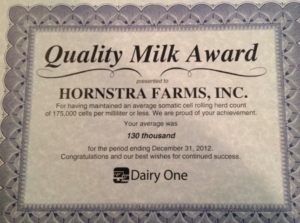 Now that the farm is up and running, John has a bit more free time. And, what does a dairyman think of now that he has some time on his hands? Ice cream. John is working with an industry expert to develop an all-natural ice cream, containing only milk, cream, sugar, eggs and guar gum, a natural stabilizer. Given that its main ingredient will be Hornstra's own delicious milk and cream, the ice cream is sure to be sublime. But, ever the perfectionist, John does not plan on debuting the ice cream until Labor Day.  As he said, "we have one chance with this and I am not willing to blow it." In the fall, John plans on opening a small retail store on the farm that will sell all the Hornstra products, including the much anticipated ice cream.
Although at one time the South Shore was dotted with dairy farms, a local dairy is now a rare commodity. So, the next time you pour yourself a glass of Hornstra milk, relish the fact that the cows that produced it were able to graze contently in this beautiful area that we all call home.
Food, in all of its glorious forms, is one of Julia Powers' passions. She believes in the transformative effect good food choices can have on health and revels in its ability to draw family and friends together around the table. In addition to writing, Julia is pursuing a Masters in Nutrition at the University of Bridgeport. She lives in Hingham with her husband and three children.
Hornstra Farms
3 Lazell Street
Hingham, MA 02043
(781) 749-1222
Photos by Michael Hart
http://juliapowersnutrition.com/wp-content/uploads/2017/01/screen-shot-2013-09-30-at-5-42-56-am.png
521
702
julia
http://juliapowersnutrition.com//wp-content/uploads/2017/01/top01-1.jpg
julia
2017-01-12 10:27:23
2017-01-13 08:29:09
Hornstra Farms: An Update