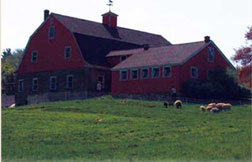 Story featured on ediblesouthshore.com
It was not a typical ladies' night out. Although we discussed some readings, it was not a book group. There was no jewelry for sale and, although there was delicious food, we were not out to dinner celebrating a friend's birthday. Instead, for eight weeks last spring, I was part of a group of twelve women who participated in a discussion course entitled Menu for the Future at beautiful Weir River Farm in Hingham. The course quickly became one of the highlights of my week.
Developed by the Northwest Earth Institute of Portland, Oregon, Menu for the Future is a self-directed discussion course about how the choices we make about food, both personally and as a nation, affect our health and the health of the planet. Since it was first offered two years ago, seven thousand people across the country have participated. Each member of our group took a turn facilitating the discussion. There were no right or wrong answers; instead, the readings and discussions were designed to help the participants clarify their attitudes and values about food choices and sustainability.
Each week, we prepared for class by reading several excerpts or short essays by leaders in the sustainable food movement, such as Michael Pollan and Barbara Kingsolver. The homework was lively and compelling. Jody Maxwell, one of the participants, said, "the book and articles were informative and unsettling and a great source for discussion." At the beginning of the course, we explored the current state of food in America, including the true cost of the industrial system that now dictates our nation's eating habits, and how oil—yes oil—has become a key "ingredient" in our diet. We also discussed the health consequences of the way we eat in America, including the detrimental effects of the pesticides on and hormones in our food, and how widespread industrial agricultural practices deplete the soil and diminish nutritional value. For example, one startling fact cited by Marco Visscher in his April 2003 Ode magazine article "Unhappy Meal" was that the protein content of wheat has declined from 90% in 1900 to only 9% today. This statistic was just one of many examples he gave of declining nutritional value.
But just when the group was feeling quite hopeless, the readings went on to show us how things are looking up. Contrary to the popular belief that industrial farms are necessary to feed our burgeoning population, we learned how small farms actually yield more food per acre than large monocrop farms. We also read about two different cities, one in Cuba and one in Brazil, that provide affordable and organic food for their whole populations through a combination of effective government policies.
The readings were thought provoking and, best of all, a wonderful springboard for the discussions the group had each week. We felt both enlightened and inspired to make changes in the ways we feed our families and ourselves.
None of the participants knew each other well at the start of the course, but the group quickly bonded. We shared an interest in sustainable eating, but it meant different things to each of us. Some of us simply tried to buy organic food while others were deeply committed to eating only local meat and produce whenever possible. Luckily, we were all open to learning from one an other. Meg Connolly, Education and Interpretation Coordinator at Weir River Farm, commented, "The course is designed to lead you down a path that you don't want to go alone." At our first meeting, we decided to take turns bringing a light snack, and thereafter our evenings started with a delicious repast, often made with ingredients from our own gardens. This spirit of sharing grew as the class progressed. One woman brought a cardboard box full of raspberry plants culled from her garden and another participant, who raises goats with her daughter, brought each of us a bar of goat milk soap they'd made. By far, the most helpful thing we shared was information.  By the last class, we'd compiled a list of local farms that supply produce, meat, and eggs, as well as helpful books and websites.
Weir River Farm topped our list as an excellent resource for local, organic food. Located on Turkey Hill in Hingham, the farm grows a wide variety of vegetables and raises animals for meat, eggs, and wool. The property has a long history of agrarian use. Originally the country estate of Polly Thayer Starr and her family, it also served as a gentleman's farm, producing vegetables, milk, and eggs for its owners. During World War II, the estate's caretaker, Harold Newcomb, transformed Mrs. Starr's prize-winning floral gardens into victory gardens. The family shared the bounty with their Hingham neighbors, providing a welcome addition to the meager rations many were living on at the time. With the death of Mrs.Starr in 1999, Weir River Farm was deeded to the Trustees of Reservations, a group dedicated to preserving land in Massachusetts for both conservation and public use. Today, Weir River operates as both a working farm and an education center with a full slate of workshops and children's educational programs.
As we met at the farm each week, our group was struck by how different Weir River Farm (WRF) was from the industrial farms profiled in Menu for the Future. You might wonder…how are they different?
Size and Crop Diversity
At Weir River Farm three and a half acres are cultivated, with another twenty-four used for pasture. Industrial farms plant hundreds of acres, often with only one crop. Growing a single crop stresses the soil, so chemical fertilizers and synthetic pesticides are used to keep the plants "healthy." At WRF, over fifty different vegetables are grown. This biodiversity helps keeps the soil and plants thriving without chemicals. Various heirloom breeds of livestock and poultry also call WRF home. Waste from the animals is used as fertilizer, producing rich soil that helps the farm thrive.
Food Integrity
As the contaminated egg scare reminded us this summer, the conditions in which food is produced affect its quality and safety.  WRF is an open book; you can walk around the farm at any time and see the care with which they tend their crops and animals.  Seeing this gives you the reassurance that they are selling the healthiest product possible.
Taste
The taste of a fresh picked tomato is simply sublime. There is no comparison between the taste of a tomato grown on an industrial farm and one that was picked fresh that morning. Produce from industrial farms is often harvested before it is ripe so that it will not spoil during shipment. When you buy produce from WRF, or any local farm, you are purchasing produce at the peak of its taste and nutrients.
Organic
Weir River Farm follows organic practices but is not currently a certified organic farm. Their vegetables are grown without the use of synthetic pesticides or fertilizers and their meat is free from artificial hormones or antibiotics. One of the most eye opening facts our group learned from Menu for the Future was that it is wise to look beyond the organic label. At WRF, you can visit anytime and see how the produce is grown and that the animals are well treated.
Sense of Community
There is a wonderful sense of community at WRF. From the children visiting for story hour to shoppers stopping by the farm stand, people are happy to be there. At WRF, you buy your food from the farmer who produced it. If you are unsure about how an unfamiliar vegetable tastes or what to do with it, just ask. The experience is as far removed from shopping at a grocery store as can be.
Want to Give it a Try?
Currently, WRF sells produce at the Hingham Farmers' Market on Saturdays and at their farm stand on Wednesdays. Next year, they will offer a community supported agriculture (CSA) option as well. Meat is available a few times a year and sells out quickly.  The best way to learn about these options is to sign up for the farm's email alerts at www.thetrustees.org/places-to-visit/greater-boston/weir-river-farm.html.
Patricia Hague, local food activist and another course participant, said, "At the heart of the Menu for the Future program is the idea of the connection between eating and the land. Small, local, family farms like Weir River help us feel that connection and help us regain control of the food system by buying directly from the producer. We get to know our farmer. This cannot happen with industrial agriculture." If this sounds like an idea you would like to explore, consider starting your own Menu for the Future group (visit www.nwei.org). While you won't have any baubles or baskets to show for your evenings out, your thoughts about our food system will never be the same.
Photos by Michael Hart
http://juliapowersnutrition.com/wp-content/uploads/2017/01/w02.jpg
162
252
julia
http://juliapowersnutrition.com//wp-content/uploads/2017/01/top01-1.jpg
julia
2017-01-12 10:23:43
2019-06-05 10:21:10
Change on the Menu